Arizona Handpiece Express-Rapid Dental Handpiece Repair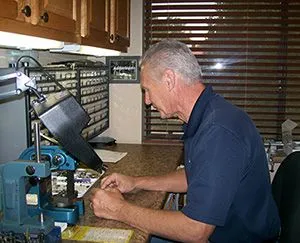 Arizona Handpiece Express is a family owned and operated business that repairs all brands of high-speed and low-speed handpieces, including electric. We have been providing fast personalized handpiece repair service to dentists throughout Arizona since 2003.
Jim has been in the handpiece repair business for 15 years and also has 35 years of job experiance as an equipment maintenance technician for a local computer chip manufacturer. Jim is also a factory trained and certified Midwest Technician. Over the last 15 years we have repaired thousands of handpieces for hundreds of satisfied dentists. At Arizona Handpiece Express we are dedicated to the concept of convenient, cheerful service with one day turnaround on high-speeds.
Arizona Handpiece Express is a founding member of the National Dental Handpiece Repair Association, and organization of independent repair centers dedicated to ensuring quality standards for the industry to protect dental professionals and patients. We subscribe to the NDHRA Code of Ethics and offer some of the longest warranties in the industry.
Thank you for visiting the Arizona Handpiece Express website, Jim and Sandee Wallace appreciate the opportunity to earn your business!
Factory Trained Technicians
Midwest Factory Trained & Certified Technician
In 2008 Arizona Handpiece Express was invited to attend technical training at Midwest Corporate Headquarters in York, PA. Jim spent a total of three days with the Midwest technical training team learning advanced repair techniques on the latest models of Midwest handpieces including the Stylus.
We stock a full line of genuine Midwest replacement turbines and repair parts to ensure that your Midwest handpiece is repaired correctly, with a full factory warranty, and returned to you quickly.